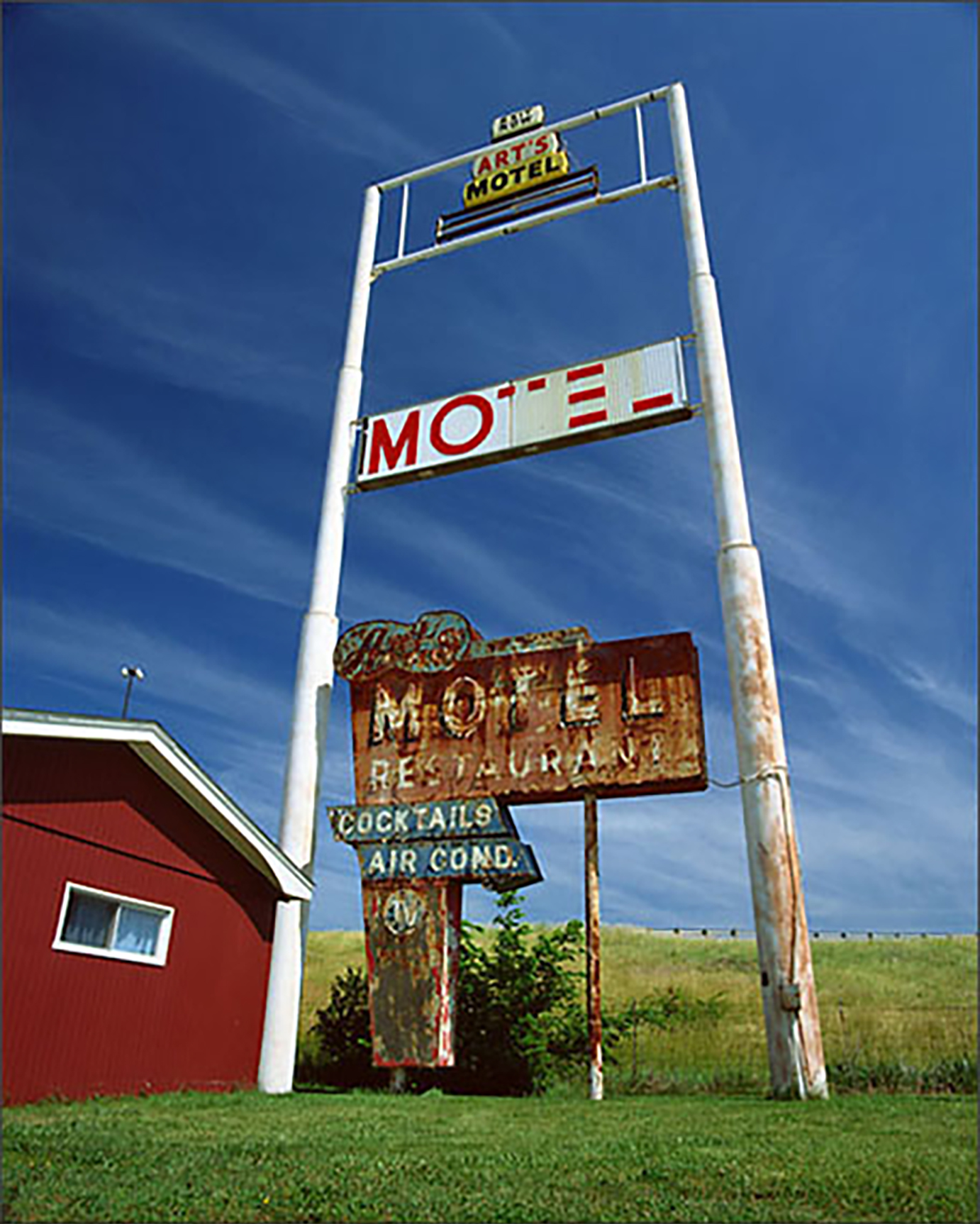 Art's Motel, Farmersville, IL, 2000
by Tom Ferderbar
I've been trying to write this since my mom died in October. Some time has passed, which has provided perspective. I'm able to laugh at much of my mom's advice—because if she were here we'd be laughing together.
1. B.Y.O.B.
My folks favored driving trips because, as they explained, "There is so much to see in this beautiful country." (Translation: "We could never get all this shit on a plane.") In the "way back," nestled between a dozen suitcases, camera cases, piles of loose golf shoes, golf bags, a cooler, a bin with paper towels, rubbing alcohol, Windex, W-D 40 and a few rolls of duct tape, was wedged a box that contained brandy Manhattan fixings, Ritz crackers, and a "family-sized" tub of Twizzlers for my dad.
I sat in the back seat of the Suburban stuffed between a small cooler filled with grapes, apples, diet root beer, Merkt's spreadable cheddar cheese, half an onion, broccoli, a nearly empty container of half and half and whatever else had been in the refrigerator that my mom did want to spoil while we were on vacation, a canvas bag with five years worth of magazines, pillows, Sudoku and crossword puzzles, Scrabble, at least two boxes of Kleenex and several plastic Automobile Club of Wisconsin bags stuffed with TripTiks, maps and hotel/motel guides.
After the entire truck was emptied out each evening at the motel (the result of the entire truck being emptied out by thieves while my folks had dinner in Tennessee while on a road trip with friends) a homemade brandy Manhattan really hit the spot. My folks didn't "cocktail" at home so it felt exotic and vacation-y when my mom would mix up brandy, sweet vermouth, bitters and a splash of Fresca in a plastic cup at a little round table in a motel room in a tiny town on the outskirts of a slightly bigger town.
Plastic cups in hand (mine with diet root beer), we'd head outside where there was usually a small swimming pool overlooking a rural highway, picnic tables and sometimes a dusty play area with a swing set. My folks would enjoy their drinks while I dashed about, amped up on the Twizzlers I had pilfered from my dad's stash.
I'm going to take a road trip with my dad this spring and although I don't drink brandy Manhattans with or without a splash of Fresca, I will pack a box with the fixings and we will sit outside some evening, on plastic chairs beside a little swimming pool with leaves floating on the water, and we'll raise a glass to my mom.
2. Keep dancing.
It was 1943 and my mom was 16 years old. By November of that year they were rationing milk, firewood and coal, sugar, meat, butter, silk stockings and elastic. I am not clear on why elastic was rationed, but the fashion industry was presented with a lot of challenges during WWII not the least of which was women drawing seams up the back of their legs with fountain pens.
My mom and her young man were at a dance, swinging to the likes of Bing Crosby and Harry James when she felt her underwear begin a slow descent south. As elastic was somehow being used by the war effort everyone had to make due with what they had and my mom's panties began an epic fail. There was no way she was going to stop and tell the boy what was happening, and according to my mom there was no hope of gracefully exiting the dance floor and making it to the ladies room before the confounding undergarments hit the floor.
As the underpants slipped around her ankles, my mom looked deep into her date's eyes, capturing his attention with her beautiful baby blues as she casually danced out of her panties and kicked them under the nearest table.
My mom cha cha-ed through traumas and heartbreaks, disappointments and betrayals, and a lot of good times. She was in the living room, practicing new dance moves two weeks before she died.
3. Stay curious.
My mom was a couple of months shy of her 90th birthday when she passed away, having been preceded in death by her beloved sister and countless friends her same age, but she remained youthful herself because she was genuinely interested in the things that people decades younger found stimulating.
I don't know why I was surprised when after she died people in their 30s and 40s told me what a great friend my mom had been. It was shocking to learn that she had an entire life outside of being my mom! She enjoyed deep relationships with all kinds of people, curious to know what they thought, how they navigated the world of their generation, which Lady Gaga songs they liked best.
If someone suggested a new Slobovian restaurant my mom was in. If you wanted to try a hot hula class or learn to crochet with porcupine needles, she was game. Each year the Perseid meteor shower falls on or around my birthday in August. In spite of the mosquitos and the fact that the light show doesn't start until well after 3AM, my mom was down for lying out in the back yard with a glass of wine, staring up at the sky, making wishes on each falling star until dawn.
She read Readers Digest and Rolling Stone, watched Alex Trebeck and Bill Maher. Her hair was tinted lavender; she wore a silver motorcycle jacket and was game for trying anything anytime…always. She stayed thirsty, my friends. And it made her interesting and forever young.
4. Smile big and sing loudly.
Especially these days I hear people raising their voices a lot, and not in a happy laughing singing way. There is so much anger, hatred, fear and vitriol in the air that I've begun to crave the sound of screaming children on a plane.
When I was little it embarrassed me how loudly my mom would sing. She had a decent voice, but I sure didn't want everyone in church or in the cars next to us to gawk while she belted it out with the Holy Ghost and Bette Midler.
Slinking down in my seat I'd glance over at whomever was staring at us, wondering what they must think. It seemed to me that my mom was a little nuts, going all Wind Beneath My Wings at the top of her lungs. She'd see people staring at her and she would smile at them—the big toothy Helen smile. I expected them to look away, as embarrassed as me. But no. My mom's joy was infectious and was usually met with reciprocal smiles, thumbs up and occasionally some decent back-up vocals.
The "Helen smile" didn't always signal elation, however. A few years ago after visiting the gym together, my mom and I ran into Macy's because it was the last day for me to redeem a Chanel certificate for some free make-up.
Dressed in yoga pants and sneakers, I handed the clerk my certificate and said that I hoped they hadn't run out of samples. She looked at my mom and me, and asked whether I'd ever purchased a Chanel product in my life. I was kind of stunned, given the drawer-full of overpriced crap I had at home. Then the woman snatched the paper from my hand, looked at the address, hid it behind her back and asked me where I lived. Surely someone as lowly as me and my sweats-clad sidekick were not "Chanel people," and I must have stolen the Chanel postcard from a better person's mailbox 30 miles away.
I stood there with my maw open in a most un-Chanel-y way while my mom's mouth slowly morphed into the big toothy smile.
"Dear," my mom said, dripping honey dosed with cayenne pepper. "Where is the manager?"
There was something disconcerting about my mom's smile and tone of voice, like a talking snake who promises he's only there for the sunshine and not to eat your babies.
Wordlessly, the snooty clerk grabbed a medium-sized Chanel shopping bag (not the bitty one) and stuffed it with every sample she could get her hands on including items from nearby Smashbox and Elizabeth Arden. Handing it over she asked pleasantly, "Is there anything you need from Chanel today?"
"No, dear," my mom said, the smile frozen on her face. "Where is the nearest Sephora?"
A knee jerk reaction, I put my arm around my mom's shoulder, snatched the Chanel bag and pulled my lips back in the world's biggest smile. My mom hugged me as we walked out of Macy's, and I began to sing "you are the wind beneath my wings."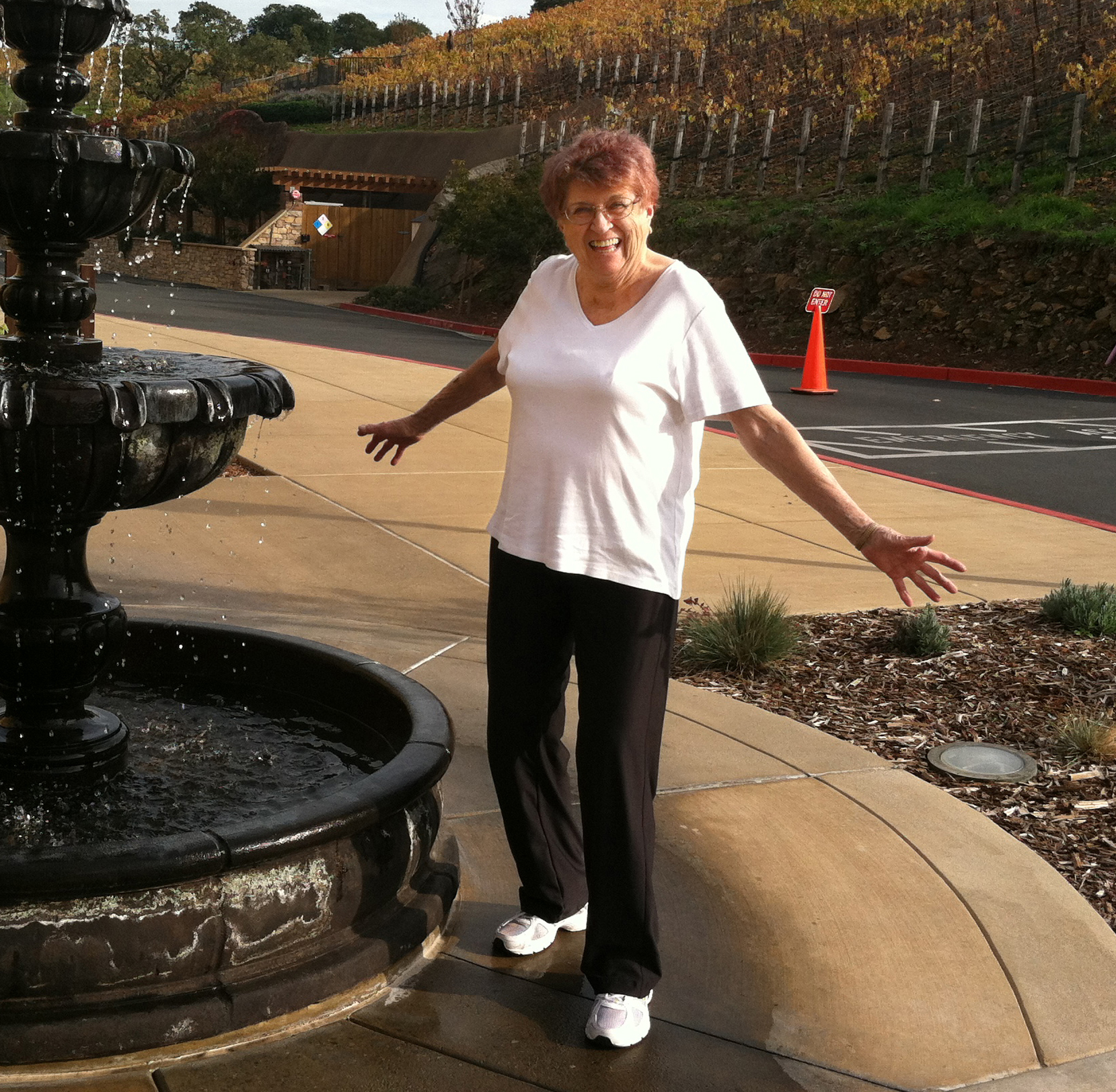 Share this: