Chad and Nolene, January 2017
I just returned from my godson's wedding in Jamaica and I promise you there was more heart, soul and far more beautiful people at those nuptials than anywhere in Great Britain during Pippa Middleton's "event of the year." The Brits may have feted foreign dignitaries and bluebloods, but the real representin' was done in Montego Bay.
More than thirty people from around the world and all over the U.S. convened to celebrate the union of two souls who are so beloved it didn't seem at all like a sacrifice for anyone to travel 27+ hours to be there. Amid the palm trees, warm sand and mojitos, a rainbow of African queens, Indian ranis and ranas, Latina goddesses, Polish princes and Midwestern nobility brought out the best in each other, reminding me why diversity moves the dial on our evolution as sentient beings. I suspect there was a fairly wide socio economic spectrum among the group, or maybe not. In flip-flops and bathing suits it's hard to tell what someone drives, their income or how much square footage they inhabit.
The qualities on display in great abundance were kindness, compassion and respect. Whenever I marveled at the uniqueness of the situation—spending literally every waking moment with a gathering of people who were different in age, background and geography, and yet who felt more like family than family, the response was always the same. "What did you expect from Chad and Nolene's friends?"
The bigger question is, what is it about someone that attracts such goodness? A week in Jamaica with this tribe provided illumination.
1. No judgment.
This wasn't just a destination wedding. It was a vacation from snarkiness. At no time was there any body shaming in spite of the fact that we had wildly varying physiques and spent 99% of our time wearing only dental floss and sunscreen.
We were a glorious army of the unashamed and it felt good. The things I did notice about everyone's appearance was the broadness of their smiles and the moony way the husbands looked at their wives as they walked toward them (of course the wives were usually carrying a couple of mojitos, but still).
Not once did anyone speak poorly of anyone else. Instead, I was regaled with stories of great affection and allegiance—individual highlight reels that featured only positive recollections, because that is how these dear ones perceive one another.
2. No drama.
Seven bridesmaids, monsoon conditions and spa staff, who on the day of the wedding operated on "island time," i.e. "time is merely a concept and not a reality, mon," and no one freaked out.
Maybe it was the day drinking, or maybe it's because this particular group of lovelies have their priorities straight, but we were all together to celebrate love. Period. We were in a tropical paradise, rain or no, still paradise. We weren't hungry, thirsty, homeless or in a war zone. When life is this good, accept it. Don't sweat the small stuff. Smile. Hug the bride.
I've spent my life around women, but I wish I'd known more like these females early on in my womanhood. When Veronique discovered black make-up on the bodice of her blush-colored bridesmaid's dress she didn't have a meltdown. Someone brought her a cloth, she blotted up as much as she could and she was done with it. She was there to support the bride and have a good time. Now that's a broad to love and adore.
I once had a friend who had to be hospitalized because her husband stepped on her shoe and left a scuffmark. Of course this same woman had to be carried when it rained so that her shoes would not get wet. I tried to explain that the reason we wear shoes is so that when it rains our feet do not get wet, but it was a lost cause.
3. Be hella silly.
Nothing says hakuna matata like a giant inflatable flamingo that is not allowed into the pool. "Wilbert," the name Kristi gave the giant pool toy she brought for the occasion, sat on the deck presiding over water volleyball like a hyper alert pink line judge.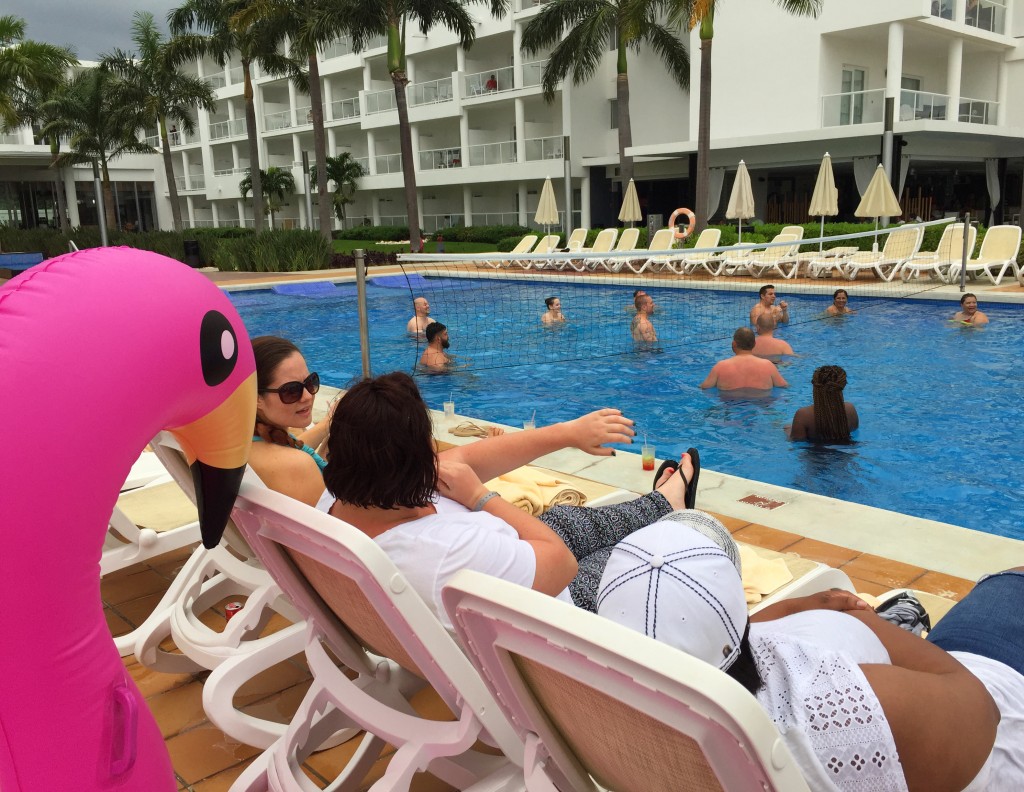 Cayshe, one of the resort's more entertaining staff members, stopped by to ask whether he might mount Kristi's goose at some point. We think he meant the big flamingo, but we can't be certain.
There were jokes and dance moves and sideways glances that cracked me up a hundred times a day. Housekeeping had a way of origami-ing bath towels in the shape of elephants, swans and what I think were supposed to be hearts (we were, after all, in town for a wedding). Instead, one evening, we were greeted by what appeared to be giant vaginas on the middle of the bed. It made for lively breakfast conversation.
We were appalled and wildly entertained by a couple having sex in the pool one afternoon. We took turns wading over to where they were going at it, in front of the swim-up bar, and then reporting back on their "pillow talk." We learned they were each married to someone else, she liked it from behind and holy shit why are we in this water with them?! We frequented the other pools after that.
4. All you need is love.
It was evident to anyone at all that Chad and Nolene love, respect and adore one another. It was equally clear that all the couples were deeply in love and in like, and that these were enduring unions and friendships that would stand the test of time. What was amazing to me was the love showered upon my dad and me.
We've known Chad since he was a little boy. With great pride we have watched him evolve as a man—exemplifying what is best at every stage. He has treated people with dignity and respect. He has always worked hard to attain worthy goals. He's the kind of person you hold up as an example of all that is right with the world, and all that can change the world for the better. It only makes sense then, that he and Nolene would attract spectacularly wonderful friends.
To be included among a group of people who radiate such positivity, graciousness, goodness and generosity of spirit was to be honored. I can't remember ever attending a wedding and walking away with the biggest gift.
Thanks Chad and Nolene, Andre, Serena, Jaye, Kristi, Veronique, Anne, Mary, Yasmin, Marisol, Melissa, Renisha, Renee, Belinda, Alisia, Sarah, Emily, Marta, Grace, Devra, Joaquin, Nick, Pawel, James, Tai, Lucas, Art, Ron, Ali, Ricky and Chris. Loves ya!

Share this: