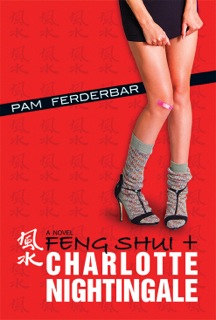 I just love Charlotte. Even when she's not feeling good about herself, there is something charming and strong under the surface. She's the kind of person I'd have as a friend
Pam Ferderbar – 28 June 2015
When did you start writing the book?
I wrote a short story called Feng Shui and Charlotte Nightingale in 1998 and sold the film rights to the short story to New Line Cinema that same year in a record-breaking $800K deal. Then I was hired to write the screenplay. In the middle of that process all my executives at New Line were fired and my project was shelved. (Classic #CharlotteMoment) I decided to write it as a novel in 2013, just before I decided to move from Los Angeles back to Wisconsin.
How long did it take you to write it?
You could say it took 17 years!
Where did you get the idea from?
I was watching the LA news on TV and they did a segment on how these big corporations hire Feng Shui consultants to either improve existing space or work with their architects on new construction plans. Companies like Sony and Disney were hiring Feng Shui people and it made me wonder, can something like Feng Shui really alter the course of a person's life?
Were there any parts of the book where you struggled?
I was so lucky with this book. After seeing the news segment about Feng Shui on TV the idea rattled around in my head for a few weeks, then very early one morning, like 3AM, the character of Charlotte woke me up, sat on my shoulder and she told me her story. For real. The short story provided such a great outline for the novel.
What came easily?
I just love Charlotte. Even when she's not feeling good about herself, there is something charming and strong under the surface. She's the kind of person I'd have as a friend, so writing for her was pure pleasure.
Are your characters entirely fictitious or have you borrowed from real world people you know?
Well, they say everything we write is somewhat autobiographical, and Charlotte is no exception. As for the others…yeah, there are components of real people. I think we all know people something like these characters. That's life!
We all know how important it is for writers to read. Are there any particular authors that have influenced how you write and, if so, how have they influenced you?
Oh, boy. Where to start with that one. Old school? F. Scott! Flaubert. Steinbeck. Today I'm crazy about Anne Tyler, David Sedaris. I really liked The Goldfinch. Patti Smith wrote the most amazing memoir ever with Just Kids. My friend Samantha Verant wrote arguably the most romantic memoir ever – Seven Letters from Paris. Bob Dylan made me want to be a writer. Who ever put words in that order before him? Still takes my breath away.
Do you have a target reader?
Women between the ages of 25 and 60 seem to really spark to this book. I guess anyone who's ever had a "Charlotte moment" can relate to this protagonist. At least that's what they all tell me.
About Writing
Do you have a writing process? If so can you please describe it?
When I'm "in the zone" I can write for 16 hours straight, although these days when I do that my back goes spastic. I recently got a contraption that allows me to work standing at my desk, and that has made a HUGE difference. Right now I'm doing so much promotion and marketing (first time author + small publisher = 18 hours per day of promotion!) When I'm writing writing I try to take care of myself by eating right, going to the gym and getting a little vitamin D outside, but I get lost in what I'm doing and I end up just writing writing writing. My plan on the next two books in the series is to take better care of myself.
Do you outline? If so, do you do so extensively or just chapter headings and a couple of sentences?
I've written dozens of screenplays, which for me at least require tons of outlining and planning. In this case on this book, the character of Charlotte told me what to write. It was some weird kind of inspiration – divine? Magical? The sun and moon? But no, on this one there was no outline.
Do you edit as you go or wait until you've finished?
I'm a demented self-editor. I will edit a sentence while I'm writing. It's a sickness.
Did you hire a professional editor? (May skip if being published by a small press rather than self-publishing)
I was really lucky to have Samantha Stoeger edit this book – she's a friend and she did me a great favor. It could have cost a LOT more!
Do you listen to music while you write? If yes, what gets the fingers tapping?
Sometimes when I'm writing a screenplay I'll listen to something that sets the tone for a certain scene, but on the book – no way. I needed to hear what Charlotte was telling me!
About Publishing
Did you submit your work to Agents?
Not for this iteration of the book. I had a bad experience after I sold the film rights and it left a bitter taste in my mouth. I went to one publisher and lightning struck again.
What made you decide to go Indie, whether self-publishing or with an indie publisher? Was it a particular event or a gradual process?
I read a front-page above-the-fold piece in the Milwaukee Journal Sentinel about Henschel Haus Publishing-a small but very successful publisher with several imprints in Wisconsin. I queried them, they asked for the first five chapters, I sent those off and was told they wanted to publish the book. The fact that Henschel is an indie publisher was super – I knew they'd be very hands on and supportive. I wanted to feel like family – not a little anonymous fish in a big pond.
Did you get your book cover professionally done or did you do it yourself?
I had the best graphic designer I could find do the cover – and it makes a huge difference, let me tell you. You can be a brilliant writer (I'm not saying that's me!) but I can almost guarantee you are not a brilliant writer and a brilliant graphic designer. I LOVE my covers!!! (Hardcover and paperback.)
Do you have a marketing plan for the book or are you just winging it?
Being a first time writer with a small publishing house I am doing most of the marketing and promotion myself, so I do have a marketing plan, dubious though it may be. I read everything I can about book marketing on the internet, I ask people tons of questions, and I am not afraid to ask for help. My whole life I was always the helper – really averse to asking for help myself, but since moving back to Wisconsin and undertaking this huge new endeavor, I have had to suck it up and ask. And guess what? People are so damn cool – they want to help. It's amazing. I'm the luckiest girl on earth.
Any advice that you would like to give to other newbies considering becoming Indie authors?
Geez, this answer should be 30 pages long. In lieu of a tome I will say that if you don't have a day job then plan on spending 10-16 hours per day, 7 days per week working on marketing and promotion. First you have to learn to know what you don't know. That alone is a massive amount of stuff. I knew I didn't know much, but I had no clue how much I didn't know. I always say "I don't even know what I don't know" and that makes for a radical learning curve. Give yourself a good 6-8 months to learn what you need to do, and execute your plans.
If you have a day job or a family to care for, I'd allow a solid year to get your ducks in a row.

About You
Where did you grow up?
West Allis, WI until I was 13 and my folks bought their first house in Delafield, WI.
Where do you live now?
I have returned to Delafield, where the people who might have run me out of town don't seem to realize I've come back!
What would you like readers to know about you?
I'm the loudest laugher, the biggest dufus, and probably the kindest heart you'll meet. People tend to think I'm very strong because I'm super outgoing, but I cry watching ASPCA ads and certain Hallmark card commercials. I'm not that tough.
What are you working on now?
Marketing and promotion 16 hours a day, seven days a week. I can't wait to get out there and start meeting people. And then get back to writing. I have two sequels planned and a companion coffee table book based on people's "Charlotte moments" complimented with original illustrations and my photography. The centerpiece of the marketing campaign is the #CharlotteMoment, where readers can post their "special moments" to social media (or email me at the website) and the moments get posted to my site in real time! Then once a month I'll select the best (worst?) and send that reader a cool prize. I anticipate getting enough funny, tragic, ridiculous submissions to be able to put together a really fun, poignant, entertaining book.