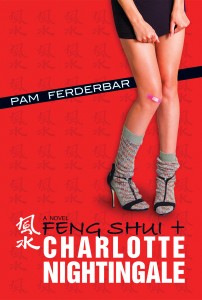 Three Towers Press. 240 pages. $24.95.
Posted: Sunday, August 30, 2015 12:00 am
Reviewed by Anne Shaver | Anne Shaver is a communications consultant in Roanoke.
A LITTLE FENG SHUI DOES A WORLD OF GOOD
Charlotte Nightingale is having a bad day.
In fact, Charlotte Nightingale is always having a bad day. She has a job that's going nowhere at a used-car lot, plain looks made worse by her thrift-store wardrobe, a lazy boyfriend, parents who prefer her younger sister, a falling-apart car and a rundown apartment.
Things rarely go her way.
At the beginning of "Feng Shui & Charlotte Nightingale," we meet the down-on-her-luck Charlotte, as well as Kwan, who lives in her Los Angeles neighborhood. Kwan delivers Chinese food for his father's restaurant and is a student of feng shui. One day, Kwan takes pity on Charlotte and decides to use feng shui to improve her life — without her knowledge. On the pretense of delivering food, Kwan visits Charlotte and begins rearranging her apartment.
At first, things appear to get worse instead of better. Charlotte discovers her boyfriend is cheating. Her car breaks down for the last time. She loses her job.
But things aren't always what they appear, and Charlotte's worse-than-normal bad luck slowly results in positive outcomes.
Along the way, readers are taken for a whirlwind trip through Charlotte's life.
Her bad luck turns into a series of adventures, some of them seemingly implausible. One of her co-workers is arrested, and Charlotte finds the co-worker has left a quarter-million dollars in Charlotte's car. Charlotte heads to Nordstrom for some new clothes, and the newly fashionable Charlotte entices her sister's plastic-surgeon fiancee. Kwan continues his feng shui work and begins to fall for Charlotte himself.
At the end of the day, Charlotte finds her happy ending.
"Feng Shui & Charlotte Nightingale" is a quick, fun read. It's a bit lacking in character development — it would be interesting to learn more about Charlotte's inner dialogue and how she got to be the "bad luck" girl. But the plot is engaging and readers will enjoy watching Charlotte's transformation.
Share this: