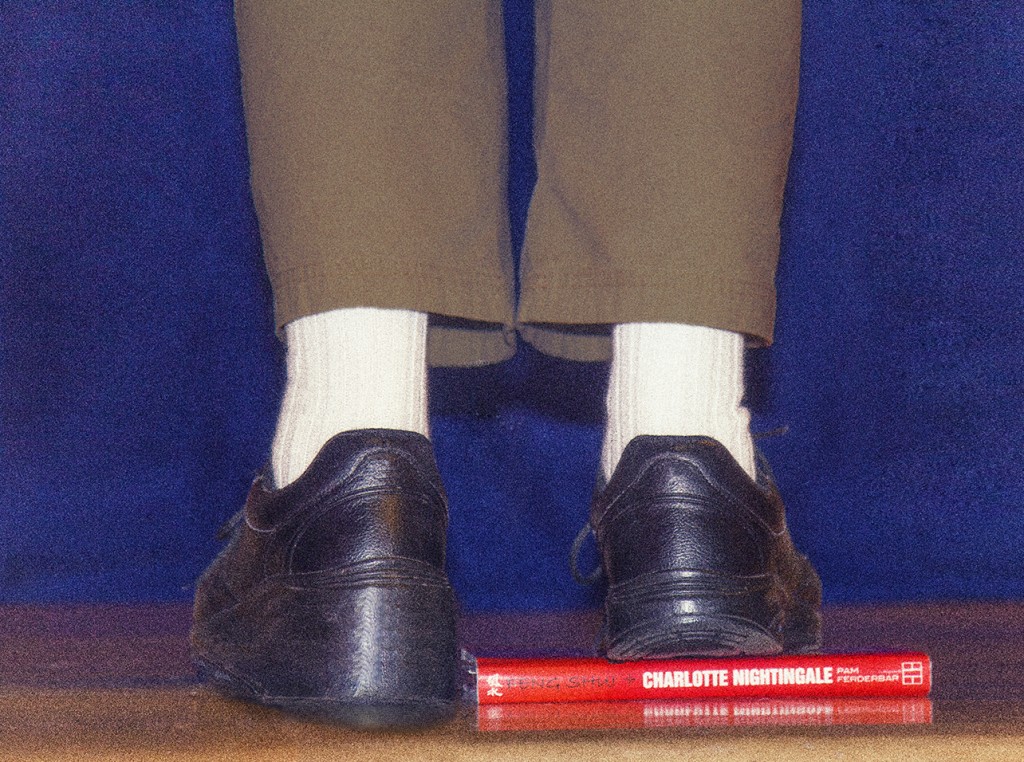 #1. Can be slid beneath something uneven, like a table leg that is an inch or so short, or my Uncle Ray, who due to his imagination believes one leg to be substantially shorter than the other. He has had the heels of his left shoes built up by a solid inch and a half, and thusly he now lists to the right. A funny book beneath his right foot would even things out.
#2. Can also be used to hold a window open, keep a door ajar, as a cocktail coaster or a trivet beneath a cabbage dish or a broasted chicken.
#3. Can be wielded as the blunt object so often referred to in crime scene investigations, with an almost certain guaranty that the police will not suspect the "funny book" of being the murder weapon.
"Cause of death?" asked the detective.

"Skull bashed in with a blunt object," the CSI replied, glancing around the room. Spotting a funny book covered in blood, the CSI told the cop, "Hey, move that funny book and see if the murder weapon is underneath."
#4. Can be displayed to show the world you are not a ghob; one who is grim, humorless, ornery and boring. (Thank you, Elaine Belling, for the perfect acronym.)
"Geez, you're grim, humorous, ornery and boring," said Elaine to Dan.

Dan waved a funny book in Elaine's face. "Then what am I doing with this funny book?"

Elaine immediately removed her blouse.
#5. Is a legal remedy for anxiety, stress, loneliness, fear, financial ruin and the discovery that your teenaged son has converted the potting shed into a meth lab. (Colorado, Oregon, Washington, Alaska and the District of Columbia have an additional antidote for doom and gloom.)
A study conducted by Psychology Today revealed that nothing is more highly valued than a sense of humor, perhaps even more than looks, intelligence and money. Someone with a great sense of humor, it is reasoned, is happy, socially confident and has a healthy perspective on life.
This explains why every online dating profile known to man proclaims,
"Must have a sense of humor."
You rarely see a Match profile demanding potential mates possess smokin' abs and earn seven figures (although this is generally understood), but everyone wants a partner with a bangin' sense of humor. Never mind that comedians get divorced at the same rate as coconut safety engineers, and are often as socially awkward as anthropophobics.
People want funny, and what better way to show the world you "get" funny than to be in possession of a funny book? Here are a few of my favorites:
♥Anything written by David Sedaris, but especially Dress Your Family in Corduroy and Denim and Me Talk Pretty One Day. I tinkle a little bit every time I reread one of his books.

♥Mindy Kaling's book is truly hilarious— Is Everyone Hanging Out Without Me? Funny. Funny. Funny.

♥Let's Pretend This Never Happened (A Mostly True Memoir) by Jenny Lawson. So down-to-earth and "real" that you can't help but see yourself in the awkward situations that have defined Lawson's life thus far.

♥A classic, Catch-22 by Joesph Heller takes comic relief to dizzying, brilliant and poignant heights. If you read it in high school, reread it again now.

♥For anyone who has ever known a child, Go the F*ck to Sleep by Adam Mansbach. I laugh just thinking about it!

♥The Wit and Wisdom of Oscar Wilde. He elevated snark to an absolute art form. You'll find dozens of bon mots here with which to amuse and abuse guests at your next cocktail party.

♥Fear and Loathing in Las Vegas by Hunter S. Thompson. Sigh. Lurid, brash—a masterpiece. And no, the movie isn't a gazillionth as funny.

Got a funny book to share with us? Do tell! 
Share this: